Texas Trail Rides at Lake Texoma
April 13, 2022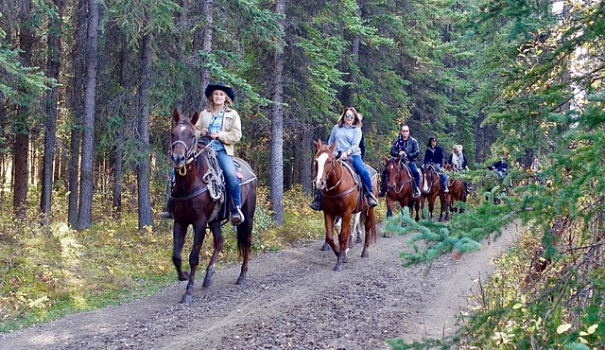 Some beautiful views in the world are irreplaceable. One of these angelic views is Lake Texoma's trail ride view. The trail offers an unimaginable and unforgetful experience. If you plan to travel to Lake Texoma, then make sure not to miss out on this amazing spot. This article will explain the experience at the Lake Texoma trail ride, so our readers can get an idea. Moreover, we will suggest some amazing
Lake Texoma cabins
.
Lake Texoma is always flooded with tourists and water. The Lake is very big, the second big in terms of shoreline, hence the water stays inside perfectly. However, the tourists must decide to stay in the
cabins near Lake Texoma
. Angler's Hideaway cabins promise a perfect experience to their guests. All the cabins are fully ventilated and furnished. You can expect digital facilities such as internet and satellite TV. The beds and pillows are also very clean. You can browse the available cabins over the internet and book your room. You will be able to check-in without any troubles and hiccups. The room service and reception are also very friendly and professional.
The View of The Trail
Certain landscapes are not available everywhere. Lake Texoma offers one of the best views between a horse's ears. The smell of leather in the air, the feel of a step-by-step saddle, and the sound of hooves hitting the dirt road ahead are all part of an unforgettable Texas trail ride experience at Lake Texoma. Saddle with a professional and experienced team to discover the unprecedented Lake Texoma area from your horse saddle and enjoy a unique riding adventure that you will always remember.
Horse Riding Experience
Lake Texoma is a beautiful area that attracts visitors from all over the world for a vacation in the south of the United States, Texas. You can find a variety of fun lakeside activities, fun local attractions, and much more in several lakes in the USA. However, there is a great argument that you will not find the great Lake Texoma. A great lake is a result of everything available around it. There is one activity you do not want to miss at Lake Texoma. It is riding in Texas with a Cowboy. You can sit in the front row of the most breathtaking wildlife while having fun with some of the most majestic and fascinating creatures in nature. As you explore the trails and walk through the countryside, ask Cowboy Andy to tell you some of the region's most interesting natural secrets.
This Is Fun For Everyone
Whether you are an experienced Lake Texoma rider or have never ridden before, we can match you with the best horse to take you. All the horses are well trained and love to go on adventures with our guests. This Texas horseback riding is ideal if families, couples, and groups are looking for something new and exciting to add to their vacation on Lake Texoma.
There Is Much More
When you are tired after enjoying a ride, relax by the pool, enjoy dinner or a drink at an excellent restaurant, or enjoy special treatment at the spa. Lake Texoma offer the best services for a relaxing retreat or a well-established family holiday.
Summary
If you are going to Texas, you do not want to miss out on the great horseback riding experience in
cabins near Lake Texoma
. Book your
Lake Texoma cabins
at Angler's Hideaway cabins now and enjoy the experience at Lake Texoma.