Golfing at Lake Texoma
June 8, 2022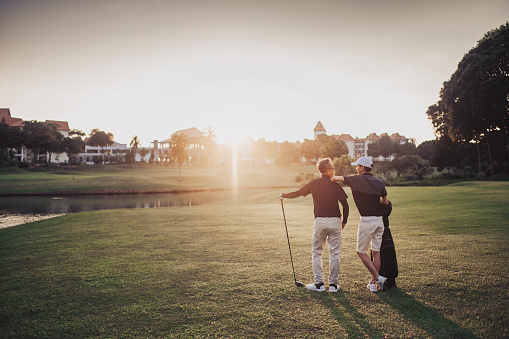 Lake Texoma is one of the largest lakes in the USA, but it has more to offer than just being a big water reservoir. Lake Texoma is a center of attention for tourists that visit Texas. Thus, Lake Texoma attracts all kinds of people, from children to older people.
Lake Texoma is also famous for its golfing services. It doesn't rain very often in North Texas, and the winds are just moderately strong. This kind of weather is ideal for golf.
This article will cover the golfing facilities that are available for tourists at Lake Texoma. Besides golfing, we will recommend you some good Lake Texoma cabin rentals to stay in when you visit the lake for golfing.
There are a lot of resorts, hotels, motels, and cabins near Lake Texoma available for tourists. It only makes sense because of the large number of tourists visiting the lake around the year. The problem is the quality of the cabin. If you spend your money on some sub-standard cabin, you will regret it.
Anglers Hideaway Cabins solves these problems for tourists by letting you browse the cabins online. You will get all modern-day facilities at the best rates. Hence, in our opinion, book your cabin right now! Before someone else does.
Golf at Lake Texoma
What's best than to get away from work for a weekend and play golf all day? Yes, nothing sounds better than that. You can rely on the weather of Texas to not betray you if you decide to pay a visit to Lake Texoma. In addition to the weather, the people of the region also take an interest in golf.
Golf courses
Lake Texoma has a lot of golf courses around it. You can find many international standard golf courses too. Tanglewood resort has one of the best golf courses in the area. You can book an appointment online if you desire to.
Diversity
Lake Texoma has something for everyone. Even if you are not a professional player, you can find a golf course that fits your skill level and costs significantly less. Some courses offer practice sessions for beginners at per-hour rates.
Tanglewood Golf Club
Tanglewood resort offers an 18-hole international standard championship golf course. Famous golf champion Ralph Plummer designed it. Ralph is also a native, so we can confidentially claim that the course is immaculately designed with all factors considered.
Tournaments
Lake Texoma has hosted several championships. You can register yourself in a championship based on your skill level as well.
Golf Packages
Most resorts offer golf packages that include a stay in their resort. It can be expensive. We would suggest renting some Lake Texoma Cabins and buy an exclusive golf-only package. Some cabins have multiple rooms. Thus, you can go to Lake Texoma with your friends and play golf without spending too much money.
Conclusion
Lake Texoma has the perfect weather for playing golf. People from all over the country come here to take part in tournaments. Cabins near Lake Texoma make golf more affordable for people who want to do all sorts of stuff. Therefore, book your cabin so you will have a place to put your golf gear.